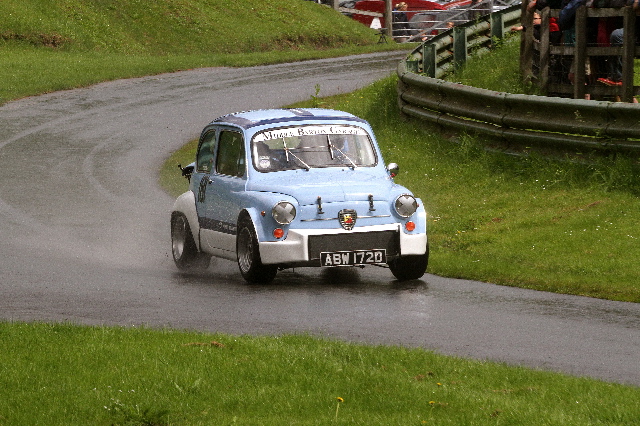 PRESCOTT
Here is the report from the factory driver - Jones the Speed!
If I could have a quid for every photograph and smile raised by the little blighter I could be retiring this week. What a reaction! I met a chap called Reg Barker who runs a Guilia Sprint in mock GTA guise - very nice car - apparently he had an invite to the Middle Barton Garage Open Day but couldn't make it.
Handicap time was the best from the 850TC back in 2005 - 58.92 - I well remember that perfect, hot day.
Wonderful class - 2 Guila Sprints (both 2 litres), Mk2 Lotus Cortina (with 2 drivers) with an all steel TC, 998 Stiletto, 998 Imp, 1200 Imp, 1380 Mini
Saturday practice 3 runs - dry but cold 60.88; dry 59.23 (with a bogged start); 60.77 (bogged start and a bit of experimentation at the 'end of the world' semi Circle top corner which has no barrier and drops down into a field on its outer edge, which nearly had me off into the trees but the hand of the Good Lord reached out to me)
Handling was a bit 'Cadillac' so I went max on the dampers and added another 2psi all round and it was much improved in the dry.
Sunday forecasted to be dry....so it absolutely pissed down in the morning and lots of people fell off.
Two timed competitive runs. Morning full wet (so lowered tyre pressures but left the dampers as is) and I did a 64.5 which included another grandma'd gearchange. Nevertheless it put me second in class on hanidcap only 0.5secs behind the leader (in the Mini) but over 3 secs ahead of 3rd placed Lotus Cortina. Even on scratch elapsed times, the Abarth was 4th fastest overall behind the Mini and both Imps but ahead of the Alfas, both drivers in the Lotus Cortina and the Stiletto. Was very pleased with that.
Afternoon 2nd run was all poised - dry - and I had this debate going on in my head about whether to change into 4th before the bridge (a bit early), during the long left hander (tried it and it was bloody difficult) or to keep it flat in 3rd all the way round and let the revs climb to 7500.
I tried the later in the end. Great start, flew into Orchard (the long left) balls out and foot to the floor...and clearly gained a bit too much speed on entry so had to adjust slightly....and the tail snapped like lightening so I was full brakes, sliding 90 degrees to the track at about 60 mph and my trajectpory took me inwards to the inner grass area, where I slide perfectly sideways until manageing to bring it to a halt about 4 feet from the grass bank !! Kept the engine running and just reversed back onto the track and limped off to a round of appluase.
Pity - was a flyer and I was fancying 2nd overall to the Mini. Anyway, fabulous weekend's Motorsport and once again, saved by the hand of God.
Car perfomed well. Lots of plugs out, fannying about on start up but once warm it was the Devil.
I think there were a couple of hundred extra Abarth marque fans by Sunday evening !