Campagnolo Style Wheels Gallery
There are a number of car applications for our Campagnolo style car alloy wheels. We use them in the restorations we undertake of Abarth road and race models for clients all over the world.
The reality is that due to the age of the period Campagnolo magnesium cast wheels, the original wheels are now only suitable for display cars - certainly not for cars used on the road or in competition.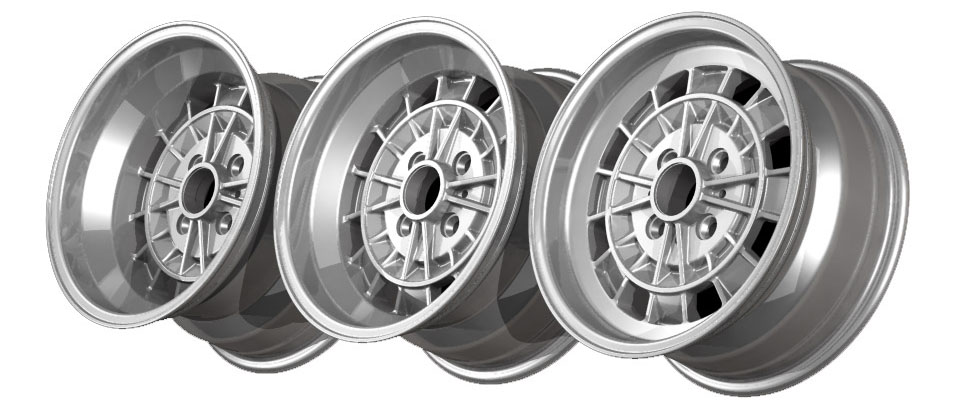 Campagnolo wheels are a key visual part of the identity of an Abarth The wheels have been out of production for many years and with the volume of genuine Abarth road and racecar restorations undertaken by Middle Barton Garage and many other specialists worldwide, we have made a significant investment in tooling to re-manufacture the wheels to the same visual dimensions. We took the opportunity to build the wheels in alloy for reasons of longevity and cost . Due to improvements in material and casting technology - we have produced an alloy wheel which is demonstrably stronger and nearly as light as the original magnesium wheels at fraction of the cost.
Although we built the wheels for owners of genuine Abarth cars, they are a definite visual enhancement on many popular mainstream classic Fiat models such as 500, 600 and 850 - call us for your specific vehicle application.
13 inch diameter Campagnolo style wheels can be fitted to the following Abarth models:
View Models
| | |
| --- | --- |
| Fiat Abarth 750 | Fiat-Abarth 1000 TC (Fiat 600 based) |
| Fiat-Abarth 850 TC | Fiat Abarth 850 OT |
| Abarth Simca 2000 | Abarth Simca 1300 |
| Fiat-Abarth OT1000 | Fiat-Abarth OT1600 |
| Fiat-Abarth OT 2000 | Fiat-Abarth Zagato 750 |
| Fiat-Abarth Allemano 750 Spider | Fiat Abarth 1000 TCR Berlina |
| Autobianchi A112 Abarth | Fiat-Abarth 595 SS |
| Fiat-Abarth 695 SS | Abarth OT 1300 |
| Abarth Grand Prix/Scorpione | All Fiat 500, 600 and 850 models of all types |