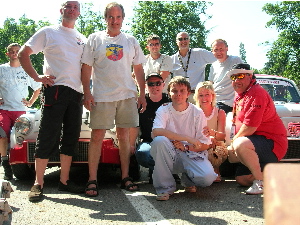 The Abarth Club of Great Britain has just returned from its annual pilgrimage to the land of red cars, red wine and red skin (due to sunburn!).
Tony Castle-Miller's 1000 TCR and Peter Rigby's Abarth Osella PA2, were joined by John Lloyd and Bernard Rowe with their Abarth 1000 TC Corsas. The entry of nearly 200 pre and post war cars from all over Europe was of the very highest quality and included no less than 41 Abarths from 595 to a 3 litre V8 sports racing car.
The sight of an ex-Lauder Ferrari 312 grand prix car on a closed public road was quite sublime, particularly when followed by a Formula 1 tecno 12 cylinder grand prix car (the Italians were heard to exclaim "musica" on the approach of these and indeed other wonderful cars with open exhausts!).
The 10th anniversary Silver Flag was an amazing event and if you have not attended in the past make a date for 2006 - see you there!