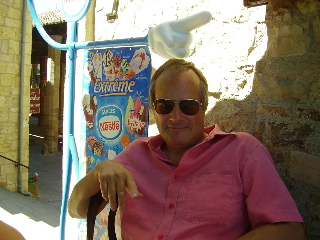 Do you recognise this man, spending his summer leisure time in an "extreme" situation? And not a car in sight!
But it was not like that for long. Whilst visiting France, TCM found time to tinker with the door on a certain red Alfa (it dropped off while visiting a vineyard!!) and visited a fellow Abarth enthusiast in the Vendee region. He never stops....... I will spare you the other holiday snaps! As we travelled further south, unfortunately (or luckily for me!) the "Course de Cote" in St. Antonin- Noble-Val in the gorge of the River Aveyron, took place last weekend (14-15 August), so we missed this local annual event. But we inevitably had to drive the course a couple of times just to get the feel of what we(?) were missing. I am promised that we will make it one year, together with a team from the UK - watch this space!
Now back, the workshop is crammed with interesting projects and, even though most of Europe has closed down (Italy does not exist again until September), we continue to supply parts and welcome summer visitors.
On Saturday afternoon we visited a very soggy Castle Combe in Wiltshire for the Rally Day, arriving as most were leaving in torrential rain (including Mick Wood and his Abarth 131 just as we approached the entrance!). The weather improved slightly and we saw passenger rides on a very wet and greasy circuit - and viewed some vehicles trying to undertake some interesting moves. The morning, however, was apparently a great success with Colin and Alister McRae plus others giving demonstations in their super rally cars. The McRae's also took out competition winners including the two highest bidders for the charity auction in aid of Save the Children.
More to follow (when I get the full SP from Tony).
Sue C-M