Geoffrey Anstead died in March after a short illness at the age of 67.
I first met Geoff and his brother, John, when they, together with Lincoln Small, were running Radbourne Motors.The year was 1965 and I had lately acquired a Fiat 600. Even at that time, some forty-two years ago, I was already an Abarth enthusiast and Radbourne was the official Abarth dealer. The thrill of seeing the Abarth 850 TC Corsa that Geoff and John drove so successfully was indeed an inspiration for me as a teenager. It would be no exaggeration for me to state, that Geoff and John's racing activities with Abarths, truly influenced the path that my life would take.
Geoff, together with brother John and Lincoln, ran a very successful Fiat dealership whilst undertaking international touring car racing with various Abarths. A most notable result was winning the 850cc class at the Snetterton 500 km and finishing 14th overall. This was a major result which helped Abarth & Co. to the European Touring Car Championship in 1966.
The last Abarth raced by Radbourne was an 850 TCR – I remember seeing it parked outside the garage in Holland Park and just wishing ………..
After the Fiat takeover of Abarth in 1971, Radbourne concentrated on their Fiat dealership and subsequently on an ambitious racing programme with a Dallara X19. They employed the services of an up and coming young racing driver, Steve Soper. As they say, the rest is history, as Soper went on to be extremely successful with the X19 and thereafter as a works BMW Touring Car driver.
For my part, I had no contact with Geoff thereafter for some twenty years, when we were brought together again – the common denominator was Lincoln's Radbourne Abarth 1300, that both Geoff and myself worked on.
I quickly found out that Geoff's enthusiasm for motor sport, Fiats and Abarths, had not diminished. We became good friends and both enjoyed reminiscing over the old days and the continued interest in all things Abarth.
Geoff was a very modest man, who measured his words and actions – he was without doubt, a very good motor engineer. In the last four years, he had been preparing a Fiat X19 with his son, Jeremy, to race in the HSCC Road Sports Championship – the car was predictably beautifully prepared and a testimony to Geoff's engineering ability.I understand that he had also supported his other son, Christopher, a keen sailor.
After Geoff's association with Radbourne, he continued to work as an independent accountant. He did some work for me, an experience that I valued greatly and which strengthened our friendship.
Thereafter Geoff participated in various Abarth events around Europe and he thoroughly enjoyed driving Lincoln's Radbourne Abarth 1300 at Monza during the Italian Abarth Register meeting in the late '90s.
I recall a wonderful occasion when he renewed his acquaintance with the two great Abarth lieutenants, Avidano and Colucci. The occasion was an Abarth France meeting at the Chateau de Savigny organised by Michel Pont – it was truly a meeting of old friends. The years fell away as they communicated to each other in the same broken English and Italian, as they had no doubt done back in the pre 1972 years. Their enthusiasm for all things Abarth was undiminished.
Geoff was full of life and lived for his family and was looking forward to new projects. He had just acquired a Radbourne Abarth 1300 and was intending to renovate this rare vehicle produced by Radbourne over thirty-five years ago. He had acquired a Fiat 600 and many parts to build an Abarth 850 TC Corsa – unfortunately these projects will not be fulfilled.
I am sure that you will join me in sending heartfelt condolences to Geoff's wife, Liz, and his sons Christopher and Jeremy – a sad loss indeed.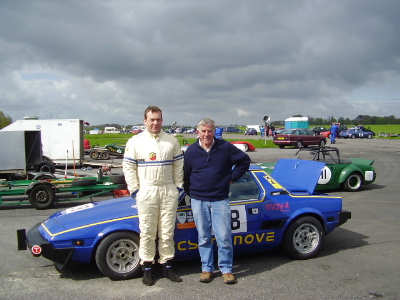 Jeremy and Geoff at Colerne Sprint, May Day Bank Holiday 2006.