MIDDLE BARTON GARAGE AT RACE RETRO
20-22 FEBRUARY 2015
ABARTH – King of Small Cars
To celebrate the 'tin top' products of Abarth over the years, the Middle Barton Garage stand exhibited eight examples of Abarth transformed saloon cars. These included cars from the '60s (695, 1000 TC and 1600 OT), the '70s (131 Group 4) and the current Abarth 500s.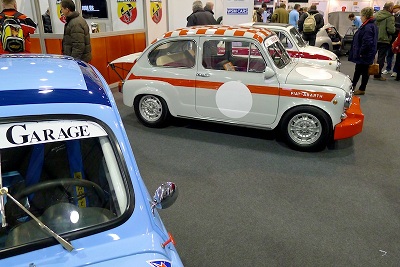 Supporting the Middle Barton Garage Abarth stand were four companies that provide complimentary goods and services. AutoItalia Magazine is the leading Italian car publication and the Wards (Phil, Josie, Michael and Claire) were on hand. Pertronix is the top electronic ignition manufacturer from the USA and markets a very wide range of ignition systems for all marques but in particular for Italian cars. A comprehensive range of Pertronix products was on show. Spot On Colours is a coachbuilder specialising in classic and historic performance car bodywork. Examples of their expertise was exhibited on a current Abarth 500 and a 1965 Fiat Abarth 1000 FIA Historic Touring Car (part built). Rockingham Cars is a very well-established Fiat and Abarth main dealer and they were showing the current Abarth 500 595 Competizioni. Middle Barton Garage displayed examples of 1960s road and racing Abarth saloon cars based on Fiat 500, 600 and 850 models, together with many parts and accessories for historic Fiat and Abarth cars.
The stand was popular with our suppliers, existing customers and Abarth enthusiasts of all ages. The blend of classic and modern cars under the Abarth brand generated a very high level of interest and new business. There is no doubt that interest in the new models displayed by Rockingham Cars was enhanced by the classic scorpions. Thanks also to the smiling and attentive Abarth stand hostess Mina.
We were also delighted to welcome both Gerry Southerington and Peter Robinson from Abarth UK to the stand.