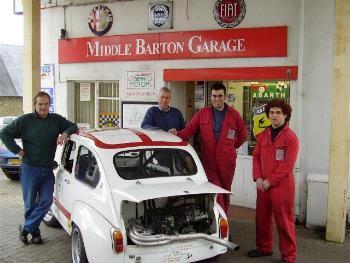 Middle Barton Garage swept into spring over the Easter weekend with visits from many of our customers from around the country and overseas.
The workshop is busily preparing customer cars for the early and mid-summer events - none more so that the 10th anniversary meeting of the Castell'Arquato Vernasca Silver Flag in Italy over the weekend of 24th/25th June. Middle Barton Garage will be there with a team of cars to participate in this wonderful event as follows:
Abarth Osella PA 2 - Peter Rigby
Fiat Abarth 1000 TC Corsa - John Lloyd
Fiat Abarth 1000 TC Radiale - Tony Castle-Miller
Recently at the International Historic Motorsport Show at Stoneleigh, Warwickshire, the Silver Flag organisers won the award for best European Speed Event in 2004. If you attend please make a point of locating our team truck and saying hello! More information available at www.cpae.it/silverflag (and click on the Union Jack in the top right hand corner for the English version!)
Fast approaching is the Bristol Italian Car Day on Saturday 30th April and Middle Barton Garage will be there with some fellow Abarth Club of Great Britain members, John Kerle (Fiat Abarth 1000 OTR), Phil Jones (Fiat Abarth 850 TC Corsa), Peter Rigby (Abarth Osella PA 2) and Tony Castle-Miller (Fiat Abarth 1000 TC Radiale). This is a fun one day event on Saturday taking place in the centre of Bristol (the old banking area). For more information, please contact Nick Wood of the Alfa Romeo Owner's Club on 01275 833098. This is a joint venture between the AROC and the Bristol City Authorities on closed public roads.
Finally, keep your eyes open for a forthcoming article in AutoItalia about the Middle Barton Garage TC Radiale, following a test session at Turweston Airfield during March.