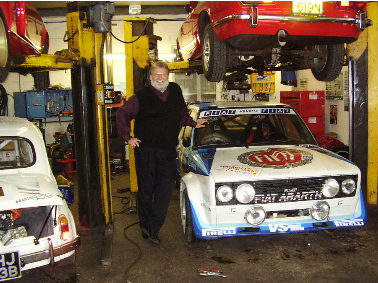 Our good friend and fellow Abarth enthusiast, Judge Parker, flew in a few weeks ago from Richmond, Virginia, with his wife Sheryl. They had spent a week in Dublin on the way, sampling stew, Guiness and Irish hospitality, not to mention the scenery and castles. (I have known Judge since the mid 1970s when we got to know each other as owners of Fiat Abarth 1000 TC Corsa racing cars, which we both campaigned actively at the time - TCM)
Before returning to the States, he managed to spend some time at Middle Barton Garage (the girls preferring retail therapy!) and here he is "propping" up the business. Whilst he has a proper day job, he does act as Agent for Berni Motori in the USA - as of course does Middle Barton Garage in the UK.
Judge is the proud owner of a Simca Abarth and an ex-works Alfa Romeo GTA.
BERNI MOTORI - 25TH ANNIVERSARY
This company celebrates its 25th anniversary during 2005. It is established as the only serious supplier of classic Abarth parts. The range continues to expand and Middle Barton Garage looks forward to many more years as the sole UK agent.
Congratulations to Tony Berni for establishing such a wonderful business.