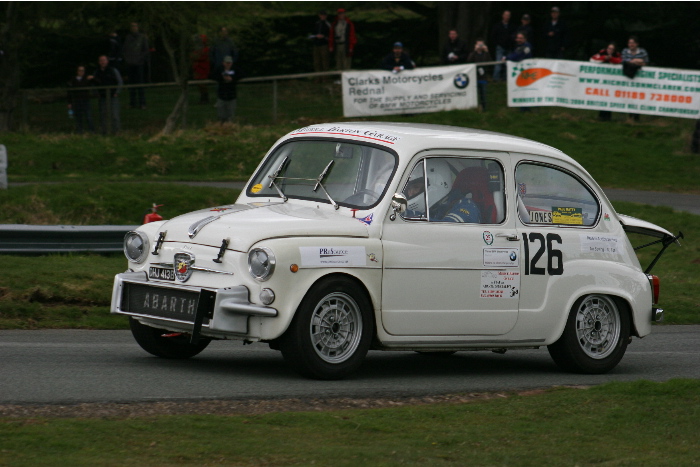 Here follows the latest on the 2005 campaign to get the Abarth to the top of the leaderboard of the Paul Matty Classic Challenge for pre 1972 saloon cars.
Latest event – Shelsley Walsh near Worcester – this track celebrating 100yrs or motorsport and the oldest continuously utilised motor sport venue in the world. Entry for this round 2 of the Midland Hillclimb Championship was strong in the pre 72 saloon class with 8 runners, all running on a handicap system based of previous best performance with a 'challenge' thrown in for good measure by the Championship organisers.
The Phil Jones Fiat Abarth 850TC Corsa Gruppo 2 had previously achieved a time of 44.34 secs up the 1000 yard hillclimb. Saturday practice saw a best of 44.85 which was promising. The handicap was set at 44.00 secs dead.
With heavy rain expected on Sunday, everyone went 'all out' for the first of two timed runs (best of the two counts). The Mighty Mouse suffered a HT lead detachment half way up the hill and so did not score a time.
With the rest of the field settling into position, the Gods blessed the Mouse with an unexpectedly fine and dry afternoon and we put in a 42.64 to take a last minute second place on handicap – missing victory by under 3 tenths – upsetting the status quo as well deafening the large crowd with the wailing motor at 7100 rpm!
Further joy was found in realising that the little 1049cc Abarth was actually second quickest on scratch times – some way behind the quick 1380 lightweight Mini in the 35s but ahead of a 998 Sunbeam Stiletto, a 1275 Mini Clubman, a 1293 Mini Cooper and a 1380 Austin A35. It was also quicker than a very nicely turned out 1380 Austin A40 Farina in a special invitation class from Southern Ireland.
Result is 6 points to add to the 3 scored in Loton Park in Round 1 and so a joint lead in the Championship. Round 3 at Loton Park will be missed but the Abarth will be back in action on 25th and 26th June at Prescott near Cheltenham.
PHIL JONES